Master of Education (M.Ed.)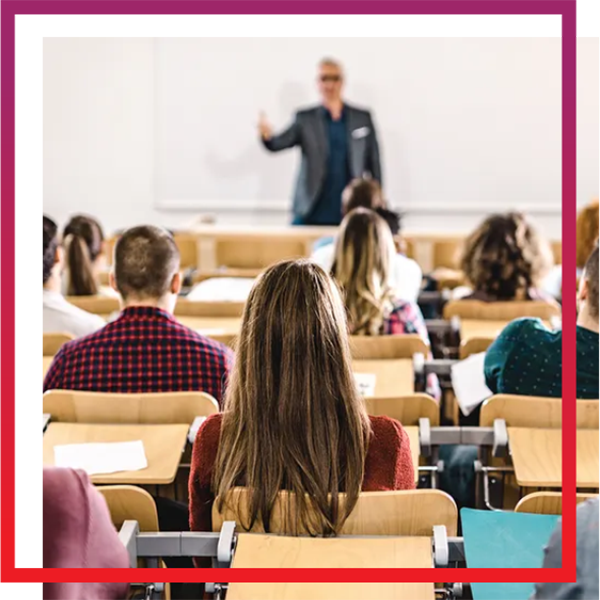 Do you want to take your teaching to a higher level and learn how to further engage your students? Our Master of Education (M.Ed.) is a unique programme which enables teachers, trainers and tutors from all backgrounds to reflect on the way they teach and develop their practice in an innovative way.
On this course you'll be able to gain insight and inspiration by interacting and learning from fellow educational professionals from across the globe.
This modern course offers a timely view of technology-based learning and how it can enhance practice. You will explore some key theoretical ideas in the philosophy of education and be introduced to the historical context that has influenced current educational practice.  The course aims to develop your skills as a reflective practitioner and enable you to consider the role of research in informing teaching and learning
Throughout this course, you'll explore a broad range of topics including:
Completing this course will help you:
There is also an opportunity to study one of three option modules should you be interested in developing content, or assessment, or have an interest in management.
Finally, you will be given the opportunity to design a mini-research project based in an educational setting, where you will be able to investigate an area of interest related to teaching and learning.
The Master in Education (M.Ed.) course enables you to study remotely while in employment and facilitates your ability to evaluate your own practice.
It introduces you to how technology can be used in teaching and learning.
There are opportunities for you to engage in dialogue with tutors and students from across the globe in the sharing of practice.
Full tuition fee: £11,222


Designated for postgraduate student loans in England.
Simple monthly payment plan available, enabling you to spread the cost over the duration of your studies.
Full payment discount of 5% if you pay upfront.
Partial scholarship available for international students residing in specific regions outside of the UK.
Alumni discount of 10% of the tuition fee available if you are a previous graduate with the University of Essex or University of Essex Online.
Please note that the up-front payment discount can be used in combination with the Alumni discount or international/Executive Scholarships. The Alumni discount cannot be used in combination with the international scholarship.
Please note that a maximum of two discounts or scholarships can be applied. Find out more information about our discounts and scholarships here.
Our course fees are fully inclusive – all teaching materials and required reading are included, and there are no hidden charges for assessments or resits. We also charge the same fee for domestic and international students.
We want to give everyone the opportunity to experience a University of Essex Online course. We think you'll love it! But if, within the first 21 days, you decide it's not for you, you'll receive a full refund.
Δ All tuition fees shown are net of any applicable sales tax payable by you in your country of residence. Where we are required to add sales tax at the local statutory rate, this will be added to the tuition fees shown and confirmed during the payment process.
Our Expert Staff
Subject specialists, industry authorities and experienced academics: the tutors who teach modules on our Master of Education are experts in the field of teaching.
Our Expert Staff
Subject specialists, industry authorities and experienced academics: the tutors who teach modules on our Master of Education are experts in the field of teaching.
Please fill in the form and an expert from the admissions office will call you soon.