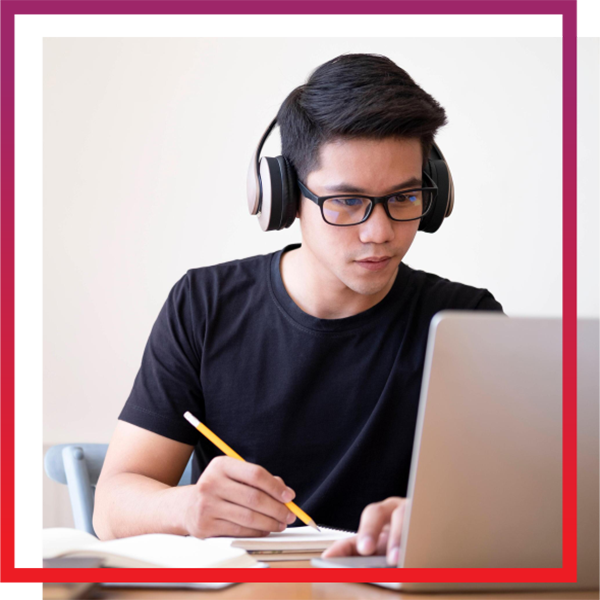 Harness your entrepreneurial spirit and prepare to make waves with one of the only 100% online MBAs accredited by the Association of MBAs (AMBA).
Developed with the world-class team at Essex Business School, this online MBA programme will help you develop the knowledge, self-confidence and skills to lead within the dynamic environments of the modern business world.
You will take part in interactive Director's Workshops, which bring industry leaders and outstanding speakers before our entire MBA student population for a week-long engaging experience. This is a unique opportunity for students to apply their knowledge to a variety of commercial scenarios and explore real-world business challenges from different perspectives.
Experiential learning is at the core of our MBA programme. Our interactive real-time synchronous attendance events deliver a wealth of reflection and learning opportunities for our students as they collaborate in groups of different sizes and composition. These real-time interactions allow students to contribute, share and reflect upon experiences and insights drawn from the different industrial, geographical and cultural perspectives represented in the global MBA community.
You will also benefit from your classmates' expertise and experiences, alongside the course content, with our in-depth discussion forums. Subject tutors will be available during live seminars and virtual office hours, while our range of assessment techniques allow you to demonstrate your diverse skillset and understanding of the business areas.
Throughout this course, you'll explore a broad range of topics including:
Completing this course will help you:
Your studies culminate in the completion of an MBA Project, a dissertation or business plan on the business area of your choice, with research that you have conducted yourself.
Looking for something campus-based? The Essex MBA offers a face-to-face version of this course.
The Essex MBA is accredited by the Association of MBAs (AMBA). Less than 2% of business schools can boast this accolade for their MBA and the AMBA affiliation can add huge value to your MBA qualification.
No need to take a break – complete this course 100% online and part-time around your existing work.
Take part in engaging Director's Workshops to bring your course to life.